The Climb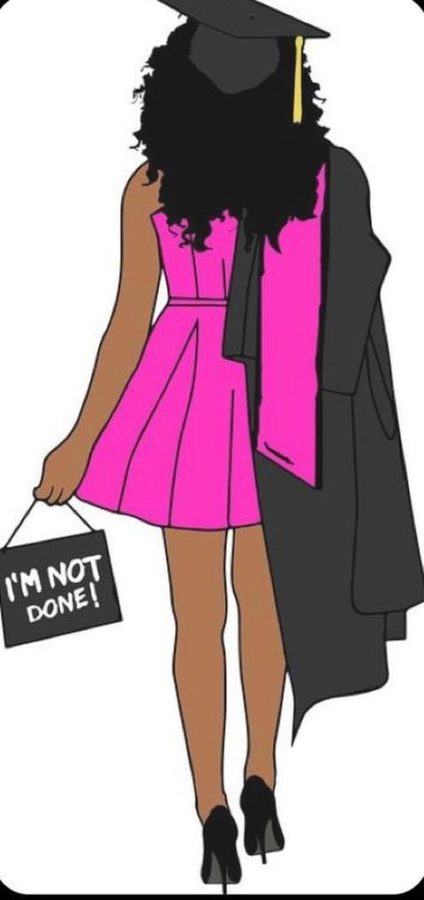 Dear Class of 2022,  
Can you see the finish line? Because I can. Can you believe in about 4 months we will be high school graduates? We were just sophomores when Covid-19 took over the world, now look at us. As we approach our new beginnings to our adult lives, I am sure we've all questioned if we are doing the right thing for ourselves at least once. Which is okay! Many of us already have some idea of what the next step is, but there are still some unanswered questions.  
In preparation for going to college, we are often told what is expected. For instance, what is needed to get into college, what is expected of us once we are there, and suggestions of what we should do once we graduate. But what exactly is college? What is the reality of it? These questions are usually answered with vague details, which is sad. This leaves high school graduates highly mistaken. You often hear that high school prepares you for college, which many people believe is not true. Most say, the most preparation you are going to get for college is within your first semester. It is a similar experience when we go to high school. I bet we can all agree that high school is nothing compared to what we thought. When thinking about the expectations, we thought of an experience like High School Musical. Of course, everyone's experience in college and high school is different, but it always helps to hear one's perspective. 
 I got a chance to sit down and have a conversation with Tiarra Banks, a Fall '21 Towson University graduate. While talking to Ms. Banks, the main point she expressed was that no matter what your next step is in life–whether it is going to college, enlisting in the military, going to trade school, etc.–make sure you are taking that step for you, and only you. The biggest reason being, you are the person holding yourself accountable, and it will only work if you want it for yourself. Nobody is calling home when you are not doing your work and it is nobody else's job to make sure you are going to class. There are going to be a thousand opinions but do not let anyone take over your life and your decisions, because at the end of day you are the one experiencing the outcome. In college it is expected for there to be a lot of highs and lows, but the one thing to try to always remember is not about how fast you get there, or what is waiting at the finish line, it is about the climb. Your experience is up to you because along the way, it helps build your character.  
Over the four years, Ms. Banks learned a lot about building character. She attended three different universities, and within each year she learned something new about herself. She first attended Norfolk State University, and then transferred to University of Maryland Eastern Shore for her sophomore year, and finally completed her education at Towson University. 
Freshman Year: "Freshman year played a big part in who I am today. My freshman year taught me how to be independent, it pushed me out of my comfort zone and to meet new people, which led to life-long friendships. It taught me how to enjoy and cherish every little moment. I did not plan to leave NSU, and it was not an easy decision to make. I had to change things because my major was on probation from a low graduation rate, so it was not receiving the proper funding and accreditation at the time. This led to me leaving the program and school when the course curriculum they wanted me to take was not leading to where I wanted to be. Plus, paying out of state tuition for a program with an unknown official return date no longer made sense" 
Sophomore Year: "Sophomore year broke me down in more ways than I can count, while also teaching me perseverance. It taught me where and who to lean on when I was at my lowest. But it was not all bad, I found a way to use it all as motivation and ended with a 4.0 gpa. This year taught me new habits, which lead me to positive outlets such as praying, writing, and listening to music." 
Junior Year: "This year was a substantial change. It helped build me back up, changing my daily routine, and finding a balance between school, work, family, and my personal life. Academically it was one of the hardest years, from late nights to early mornings, switching from living on campus to commuting every day. With adjusting to a new campus and type of school, I have been exposed to a lot of different people and classroom styles, which also led me to develop new learning styles, especially when the pandemic hit." 
Senior Year: "My Senior year was an example of the domino effect. Going into senior year, I had a tough time from the previous semester with virtual learning, which then led to my graduation date being pushed back. With the date getting pushed back, I had to take an extra semester. Having to take an extra semester meant that my outside scholarship I had to cover my college expenses would no longer be applied. This showed me how to stick it out and see things through. I took a 16+ credit course loads each semester and classes during breaks after leaving my first school, hoping I did not have to do more than four years. And still ended up having to take an extra semester which made it hard to accept at first. The domino effect with classes within my major was shown since you had to pass one to go to the next. The extra semester forced me to focus and commit more time to longer and higher-level classes." 
Going back to the question asked earlier: what exactly is college? College is not a straight road, college is different for everyone, and it is truly an experience. What is the reality of it? The reality of it is that things change. The reality is things do not always go as planned. The reality is you must see it through. This is just one perspective, an experience far from the traditional route, but it is a real story so use it to your advantage. Just remember "Ain't about how fast you get there, ain't about what's waiting on the other side, it's the climb…"