Message from the Principal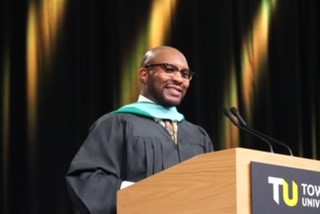 Mr. Aubrey Brown, RHS Principal

Greetings Faculty, Staff, Students, Parents, Families and Friends of Ram Nation,
Welcome to the 2020-2021 school year. As we begin our year of learning and growth together in these unprecedented times and circumstances, the faculty, staff and administration of Randallstown High School is more committed than ever to our mission to inspire, encourage and strengthen each member of our school community.
Though we will not see each other face to face at the start of the year, Randallstown High School stands ready to support each student and family in having a strong start to the year. In addition to information that is available for parents and caregivers through BCPS-One, please also continue to visit our school's webpage (https://randallstownhs.bcps.org/) for updated information and support resources.
As the principal of Randallstown High School, I take great pride in sharing the story of our tradition of excellence at Randallstown High School. Featured in this edition of The Rams Horn news magazine, you will find examples of how our students and community members embody hope, strength and success both in and beyond the classroom.
As you read, I hope that you will be as moved as I am by the compelling story of our school and inspired by the members of Ram Nation that are pushing themselves to reach new levels of excellence in their endeavors.
As we continue to cultivate the knowledge, the skills and the mindsets of life-long learning and leadership necessary to enhance and transform our world and our communities, it makes me very proud that The Rams Horn is capturing and sharing the impression that we make on each other's lives.
I look forward to another excellent year at Randallstown High School – take good care of yourself and one another.
Serving students in excellence,
Mr. Aubrey P. Brown, Jr. 
Principal