Keeping Clean During Quarantine
Self-care plays a big role in building confidence.  You'll always want to look your best. Earlier this year, with the spread of COVID-19, beauty supply stores, salons, and barber shops were forced to shut down.    In terms of everyday self-care, we were lost. It was at that point the world including myself had to get creative and so my journey into natural inexpensive self-care began.
In my research, I learned first and foremost that many retail stores sell skin care products that have chemicals that can damage the skin.  As a result, you can find yourself spending unnecessary amounts of money to repair the damage. These beauty care products include unhealthy chemical ingredients such as phthalates which are commonly used in paint and nail polish.  There is a natural way to keep your face glowing and clean at an inexpensive price.   You can find the items right in your refrigerator, kitchen cabinet, or your local grocery store.
During my broadcast segment "Keeping Clean During Quarantine" on WRHS-TV. I gave a quick lesson on natural skin care.  Below, I provided a list of ingredients, the uses and benefits to your skin.   To make a cleansing facemask, you will need one (1) tablespoon of yogurt, one (1) teaspoon of honey, and approx. 1/2 teaspoon of turmeric. The yogurt has zinc which works as a natural sebum balancer– but it also has calcium, B vitamins, and lactic acid which get rid of dead skin cells and moisturizers the skin. The second ingredient is turmeric, which is a natural skin brightener and has anti-inflammatory properties to help soothe acne flare ups. The last and sweetest ingredient is honey. It is an antibacterial agent and helps speed up the skin's healing process.
Making the mask is quite simple.  Mix the above ingredients to a thick consistency (slightly thinner than mayonnaise), then apply to the face. Let the natural mask sit on your face for approx. 10 minutes then rinse off with warm water.  Apply the mask three times a week for clearer skin. The total cost is roughly $10! It doesn't get any better than this!  Don't go out purchasing expensive products when you can save money and keep your skin clean and toned, the natural way.
About the Writer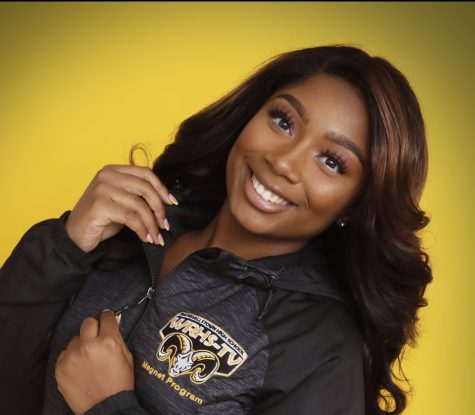 Chloe May, Layout Editor
My name is Chloè May.  I am a senior and a member of the Multimedia Magnet Pathway B program at Randallstown High School. I love to play sports and hang...