Holiday Message from Principal Aubrey Brown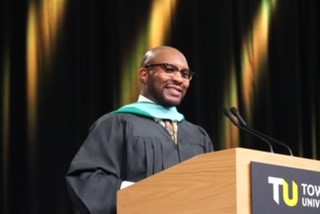 Season's Greetings Randallstown High School family,  
BCPS offices and schools will be closed on Thursday, December 24, 2020 until we reopen on Monday, January 4, 2021. 
During this time of peace and contemplation, I am moved with gratitude for the opportunity to serve as the principal of Randallstown High School.  It is my wish that each of you have a healthy, joyous break that renews and reinspires you.  Following the end of this week, the days will again begin to get lighter, brighter and longer, reminding us to keep our focus on persevering towards our goals and dreams.   
Thank you for making Randallstown High School part of your year and your life. I look forward to working with you to welcome 2021 with hope, strength and a new level of excellence and success for our students and our school. Happy Holidays!