There Are No Days Like Snow Days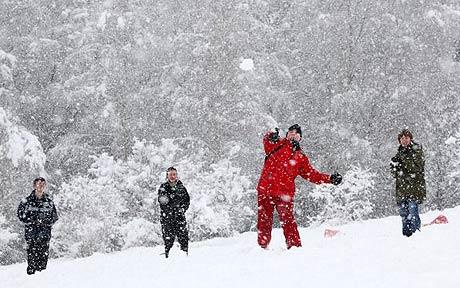 NO MORE SNOW DAYS! Yes, you read that correctly! Since the pandemic, many things have changed. The days of going to sleep with your pajamas inside out and backwards, waking up hoping to see your school district roll across the bottom of the news screen, having snowball fights, drinking hot cocoa, and being able to watch tv all day are gone? During the school year, the best parts of December were the unexpected snowy days. As we all know, our "normal life" has been changing since 2020. 
It has been reported that the New York School district canceled snow days when they announced its new 2021-2022 school year calendar. "All students and families should plan on participating in remote learning," the city schools district website said. The cancelation of snow days evoked a wide range of emotions. People think canceling snow days is a great idea because they 'should' get something back from it. They believe that if snow days are withdrawn, they should get out of school earlier. With the bonus that if schools went to remote learning instead of having snow days, then students and teachers will not be overwhelmed by schoolwork when they come back due to their missed work. 
Meanwhile, others are against it because kids are losing the opportunity to just be kids. It is unfair that children will not experience the snow day magic as we did. Even though promising points are being made, such as getting out of school early, life is just so unpredictable. Using 2020 and 2021 as prime examples, schools went virtual due to COVID-19. Many said the same thing, "well, since we're virtual, we won't be in school as long as before" YAY! WHOHOO! Then BOOM Baltimore County Public Schools experienced a cyber-attack a week before Thanksgiving break. The cyber-attack proved that so many things can change within a blink of an eye, and time passes by. Everyone's brain needs a break here and there, specifically children. That within itself is a perfect reason to keep snow days.   
Arguing the defense to support New York City's decision to cancel snow days is even harder to do. Canceling snow days is an unwise decision, and everyone from the parents, students, and teachers has said the same thing. Students are more in need of positive experiences and to destress. If there are no days off, such as snow days, eventually, students will become mentally exhausted. Coming back from virtual learning, many class percentages dropped due to students mentally clocking out because there were not any breaks. People assume that because the students are home, it should be easy for them to complete the assignments and turn them in on time. As we all know, that is not the case, due to computer malfunctions and lack of resources.   
Knowing this and continuing to have all snow days virtual would be cruel. Snow days are unplanned; some days may last for a day two, while others last a week or more. School is going to keep moving forward, so If students do not have the best resources to be virtual or are not successful while virtual, they would fail. Work is continuing to come, and they're not doing it, so when they come back to school, it's going to become overwhelming to a certain extent.   
Ever since we have been back to in-person learning, all the school districts' goals have been to eventually get back to normal. How normal would it be for it to be 6-7inches of snow outside and kids are still in class? As I mentioned earlier, snow days are uniquely beloved by kids in winter climates. After a night of hope, children earn a blissful surprise, a morning spent sleeping in, and a day of playing outside. Going to remote learning in replacement of snow days will only be robbing them of their childhood memories. 
New York City first down. Is Baltimore County Next?